Get A Free Quote
Fill out the instant free quote form to the right of this page, and we will get back to you asap. If you wish to speak to one of our helpful tow truck staff members, call us on 08 9468 7220.
Roadside Assistance

Need some roadside assistance? We are on it baby.
Don't be stuck on the side of the road for longer than you need to be. Call us at Mandurah Trusty Towing and be up and running in no time.
Our roadside assistance includes but is not limited to: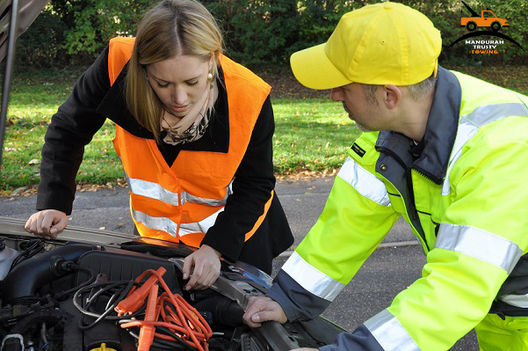 Your service not on the list? Just ask us, and we will see what we can do for you.
If you wish to find out any more information on our services, what's involved, how much it costs or how long it will take, simply ask.
We'll help regardless of the situation.
Whether you have been cruising down the road, and your tyre pop goes the weasel, you are unable to change it by yourself or are without a spare.
If your car has had the fuel light on for too long and it has finally given up running on fumes, and is in need of a top up.
Or perhaps you require a jump start because the energy in your battery becomes how you feel after a long day at work and don't want to anything but sit around.
Submit a quote or call us 08 9468 7220.